Kids love to mimic adults in getting the house clean or even setting up pieces of furniture and other home appliances. If your child loves to play with your vacuum cleaner or you want to teach them some essential skills on home cleaning, a toy vacuum cleaner with real suction power would suffice. These types of vacuum cleaners make playing pretend more realistic and are more delightful to use.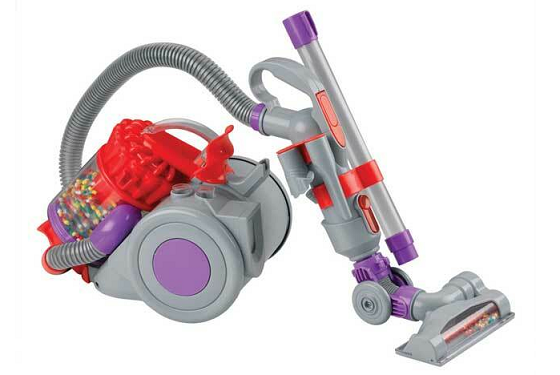 Toy Vacuum Cleaners that Really Work: Our Top 5 Picks
When shopping for a toy vacuum cleaner that will actually pick up dirt and help with cleaning, there are many options to consider. To help you make the best choice, we've curated a list of some of the best toy vacuum cleaners that work like real and that would add lots of fun to your child's play.
1. CASDON PLC 68702 Dyson Vacuum
The toy CASDON PLC 68702 Dyson Vacuum shares the same design and colors as the real deal; and best of all, it comes with the same functionality so your little one can actually get some cleaning done.
This toy replica comes with a working suction that makes pretend play more realistic and fun. It will pick up small bits just as the original and push them to a debris compartment. The debris compartment can be emptied and the fun starts all over again.
This vacuum is based on simulated Cyclone action with moving colorful balls in a clear cylinder. It will move and sound like the real Dyson Cleaner that adults use around the house, so your child won't feel left out.
There are different ways your kid would get some fun out of this vacuum cleaner. It comes with a short nozzle in case your child wants to get some cleaning done on their knees, and a long-handled twist and turn system in case they want to do it like mom and dad. The attachments feature an easy-release removal system, so your child wouldn't have a hard time switching between both options.
This vacuum is designed to be lightweight and won't be a hassle to move around. It will pick up polystyrene balls and small pieces of paper just fine; however, it might not get more demanding cleaning jobs done.
The CASDON PLC 68702 Dyson Vacuum is designed for children above the age of 3. Its small parts are perfect for your child's little hands, so handling it shouldn't be a problem. It measures 9.25 x 3.94 x 5.71 inches and weighs 2.2 pounds. Due to the small parts, this vacuum could pose a choking hazard to kids under 3 years, so you might have to check out something else if you're looking for a vacuum toy for your baby.
The CASDON PLC 68702 Dyson Vacuum is powered by three AAA batteries. It is cordless so the fun never stops.
Pros
Comes with a working suction wand
Two attachments for the short nozzle or long handheld play
Durable and sturdy build
Cons
2. CASDON Replica Dyson Ball Vacuum
If your kid loves to role-play and pretend to get jobs done around the house – exactly like grown-ups, the CASDON Replica Dyson Ball Vacuum is an excellent gift that would make them feel part of your world. This vacuum cleaner is designed to be true-to-life and would make role-playing for your little one more fun than ever.
It comes with bright colors that will draw your child's attention and a working suction that actually picks up dirt. It has a Cyclone-action feature that comes with brightly colored balls. This should not only keep your child interested in getting some cleaning done, but it makes the vacuum cleaner a toy your child would love to show off.
The working suction has just enough power to suck up small pieces of paper, fluff, and beads, and then it will send it to the removable debris drawer at the back which can be easily emptied. The entire process is not just fun but more realistic to your child's delight.
Your child should be able to learn by acting and copying your movements with this vacuum cleaner. It comes with twist-and-turn action, so it moves just like the real Dyson Ball Cleaner. It also makes true-to-life sounds that would make your little helpers feel more fulfilled after getting their rooms clean.
The CASDON Replica Dyson Ball Vacuum has a simple-to-use interface. It comes with two buttons. The red button will turn on the colored balls in the canister and make a whizzing sound just like a real vacuum cleaner. To turn on the suction and get some cleaning done, you would have to turn on the on/off switch.
The CASDON Replica Dyson Ball Vacuum is built to be lightweight, so your little helper would spend more time cleaning rather than struggling to move it around. It weighs just 1.76 pounds and this size should take only a gentle push to get going. This toy measures 7 x 7.5 x 25 inches. It is just the right dimensions for your child to maneuver without restrictions.
This vacuum cleaner only works with batteries, and they provide enough power to actually clean stuff. Also, you wouldn't have to worry about replacing the batteries too soon.
Pros
Colorful design
Removable debris drawer
Working suction
Cons
3. CASDON Dyson DC22 Toy Vacuum
The CASDON Dyson DC22 Toy Vacuum is one of the best ways to teach your child some essential life skills. This exact toy replica of Dysons Hottest Vacuum DC14 will suck dirt from the floor and enable your little helper to contribute their quota to house-cleaning.
While the CASDON Dyson DC22 Toy Vacuum makes for an impressive cleaning tool, it's most impressive feature is its colorful design. Bright colors, indicator lights, and realistic sounds are big attractions in any toy vacuum cleaner and this one has it all.
This CASDON Dyson DC22 Toy Vacuum is fitted with a real suction that will pick up small pieces of paper and even animal fur. The suction wand links to a removable dustbin in the rear. This makes this vacuum cleaner a great tool for DIY cleaning. Your child should be able to clean up the desk and light trash by just pressing a button. Once emptied, the dustbin can be fixed back and cleaning can continue.
This vacuum cleaner weighs just 2 pounds. It is compact and lightweight so it can be pushed freely on wooden or tiled surfaces. It would also move with no resistance on carpets. To function, you would have to put in the batteries.
This vacuum is powered by two LR44 batteries. For kids, a non-rechargeable toy is usually the best. There are fewer cables to worry about and the fun never ends with this type of batteries. Rechargeable batteries would run out after a while and would need to be recharged every now and then. This would take the fun out of cleaning for your little ones.
The CASDON Dyson DC22 Toy Vacuum makes for a great gift for little kids, but it won't be the perfect toy for kids below the age of 3 years. A clear warning from the manufacturer states that the toy contains small parts that could pose a choking hazard to your child. This vacuum cleaner measures 17.5 x 26 x 23 inches so it might be a little too small for older kids but it still makes a great gift for toddlers.
Pros
Comes with on-board tools and a detachable wand
Suction wand works to suck up dirt
Compact and lightweight
Cons
4. Minnie Happy Helpers Sparkle N' Clean Vacuum
Featuring a 2-in-1 design, Minnie Happy Helpers Sparkle N' Clean Vacuum is the perfect pick for Minnie Mouse girl fans. It is brightly colored with pink of different shades on its handle, suction wand, wheels, and right about everywhere else.
To complete the look is a bow right above the vacuum canister. The nozzle has a picture of Minnie Mouse at the middle and a bow right at the top of it. Both are surrounded by a heart shape with a flowery design around the edges.
The Minnie Happy Helpers Sparkle N' Clean Vacuum is designed to appeal to girls and it will work just like the real thing. It will also sound the same too, producing a low whizzing sound just as with regular vacuum cleaners. To complete the design are beads in the vacuum canister that swirl and whirl around when pushed. The bow on the vacuum will light up when it is in use.
This vacuum also comes with a compact design that will allow kids to reach those tight areas with ease. It is lightweight so your little girl can move it to and fro with ease. It weighs only 2.4 pounds which is a bit heavier than many other options we've come across but it still stands out due to its unique design and realistic features.
The Minnie Happy Helpers Sparkle N' Clean Vacuum measures 9 x 10 x 16.26 inches. It is quite small, making it easier to handle. It is powered by three AA batteries. This time, the batteries are included with your purchase to saves you the extra costs.
This vacuum is best for kids between the ages of 3 to 10 years. While it would be a fun toy for younger children, its small parts could pose a problem since they can be easily removed and swallowed by smaller kids.
Overall, Minnie Happy Helpers Sparkle N' Clean Vacuum would be your little girl's delight. It is visually pleasing and works like the original vacuum cleaners so your child can actually help around the house.
Pros
Three AA batteries included
Produces realistic suction sounds
Beautiful and colorful design
Cons
Not suitable for children below 3 years
5. Melissa & Doug Vacuum Cleaner Play Set
If you're looking for a more affordable fun toy for your kids that won't break or wear down after a few uses, this wooden kid-sized vacuum cleaner might just make for the right fit.
This piece is everything fun and it comes with its own things to pick up. You will get eight wooden pieces along with the cleaner that your child can roll over. These pieces of cereal, pretzel, popcorn, button, bandage, ring, paper clips, and coin can be sucked up into the base of the vacuum. To empty them, they would just have to open the lid at the base and then they can scatter them on the floor and repeat the process.
This vacuum cleaner is made entirely out of wood so it would withstand all sorts of abuse from your toddler. Its handle is designed to look like a thermometer with a dial right in the middle. The dial can turn and click while in use. You will also find a reusable cleaning checklist where your little helper can mark the pieces they've picked up. This checklist hangs on the back of the tilting handle so your child can always take a look with every scoop.
This vacuum cleaner requires no batteries, though you would have to assembly it to use it. The assembly process is easy since it only requires one step. Lack of battery on the scooter means no extra expenses on battery replacement.
The Melissa & Doug Vacuum Cleaner Play Set isn't built to help your child with just cleaning but it will also help them with color and object identification. In addition to that, it will help your kid to develop their motor skills as they move the cleaner around to pick up the objects.
This vacuum cleaner is built to be compact, lightweight, and durable. It weighs just 2.2 pounds and should be very easy for your toddler to move around. It measures 6.75 x 5.75 x 20.15 inches and is perfect for kids above the age of 3.
Pros
Vacuum tilts and turns just like a real vacuum cleaner
Comes with a cleaning checklist
Eight wooden pieces included
Cons
Wooden design doesn't make for the most realistic vacuum cleaner
Related