A cute puppy would make for a great buddy for your child but what if they're allergic to real dogs? Or what if you can't stand the shedding or the expenses that come with caring for a real-life puppy? Well, you can always go for the next best thing.
Toy puppies come with all the fun and none of the fur. These cute toys will bark, sit, roll, and walk just like the real deal except you won't have to clean up dog poop and fur every now and then. Some options go even further and act as a way to teach your child some essential topics. You can program common subjects into these toys and they will read them out to your child's hearing.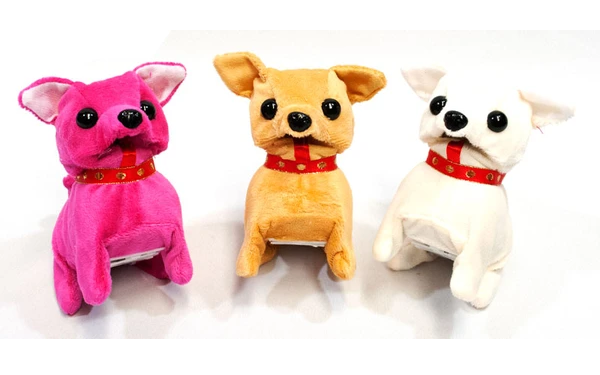 Toy Dogs that Walk and Bark: Our Top Picks
In this review, we've singled out six of the best toy dogs that walk and bark and that will bring smiles to your child's face.
1. Meva PawPals Walking and Barking Puppy Dog Toy Pet
A puppy would make for a great gift for your little one, but if you're unable to gift them the real thing, this Meva PawPals Puppy Dog Toy Pet is a good option to go for. This toy dog is designed to bring smiles and giggles to your child with its adorable face and soft realistic fur.
The Meva PawPals comes with a remote control leash that controls the dog's actions like walking and yapping. All you have to do is press the buttons on the leash and the puppy will spring to life.
The remote control allows the puppy to walk, bark, and wag its tail all with the push of a button. It is designed to be lightweight at 1.27 pounds so your young one should have no problem moving it around. The puppy measures 8.5 x 5.5 x 9 inches and is named Toby. Your child can rename him if they want.
The toy dog's appearance is very appealing. It has long shaggy hair and floppy ears. This dog could pose as a boy or girl dog. It comes with a bowtie (different colors available) for boy dogs and pink bows and a pink leash for the girl dog.
The head of the toy is entirely plush but it might not be very comfortable to lay on. The head and mouth won't make any movement but you will hear the dog bark with the press of a button. Its mouth is stitched close, which is a bummer since it would have made the bark more realistic. The legs of the dog are a bit hard due to the fitted mechanics that allow them to walk.
This toy dog is powered by three batteries which are included with your purchase. The batteries can be replaced by accessing the panel on the dog's belly.
This Meva PawPals Toy Dog is made out of polyester and has small parts that are a choking hazard to children under the age of 3.
Pros
Leash handle with remote controller
Three AA batteries included
Puppy toy walks, yaps, and wags its tail
Cons
Doesn't stop barking when turned on
2. Liberty Imports Cute Little Puppy
If you're shopping around for an adorable toy dog that imitates the real thing with a realistic bark to it, then this Liberty Imports Cute Little Puppy would bring an end to your search.
Liberty Imports Cute Little Puppy copies its look from one of the most popular and most attractive dog breeds in the world. It comes with the same adorable, friendly face and silky, flowing hair as with the original.
This toy dog comes with a bandana wrapped around its neck to make it look classy and presentable. Unfortunately, the bandana can't be removed, and this would have been a great feature since it would give the dog different looks.
This pup can perform several amazing tricks. You can watch it walk, bark, and do a daring back-flip somersault landing right back on its feet like a trained athlete. It comes with improved mobility that makes puts the fun to playtime. In addition, your child should be able to take a walk with it. However, this pup won't take up high speeds, so playing fetch might not be possible.
It doesn't come with a remote control, so you have little control over its tricks. The dog only comes with an on/off switch on the bottom. Once turned on, it will perform its tricks and bark the entire time it is turned on. This could be really tiring for your child. On the upside, it could be just what your child needs. When switched on, the dog will start to move and at the same time, it will bark.
Pros
Walks, barks, sits, and flips
Great for children with allergies to pets
Strong and durable
Cons
3. WEofferwhatYOUwant Electronic Pet Dog
If your child is below the age of 3 and you want to gift them a cute furry friend, you would have just a few options to choose from. While most dog toys feature small parts that pose a choking hazard to small children, WEofferwhatYOUwant Electronic Pet Dog would only make your child scream in delight.
This toy dog is of the Dalmatian breed and it sports the same white coat with black polka dots used to identify Dalmatian dogs. This design will bring giggles to all kids, including those with special needs. It can perform several tricks but one striking feature that sets it apart from many toy dogs in the market is its ability to sing. While it won't pull a crowd like Michael Jackson, this Dalmatian toy dog sure knows how to rock. It will play music and also take the center stage by singing to your kids.
The WEofferwhatYOUwant Electronic Pet Dog comes with a motion sensor that triggers several pet modes. The body of the pet is fitted with motion sensors, each activating a certain response. A touch on the head will make the dog dance and since while touching the nose twice will make it yelp.
Patting the dog on the back activates the smart game mode and the dog will run or walk. If the dog comes close to an obstacle it will turn and walk away. If it is in-between two obstacles (like in between your child's legs), it will stop until the obstacles are removed, and then it will continue walking.
It would also speak in certain circumstances. For example, a single touch on the nose and it would reply "Oh no! Who is touching my nose". A pinch of its tail would make it say "Oh! No, stop it!" and then it struggles to get free. Lastly, a touch on its backside would make it say "OOPS! Sorry."
This pet comes in two colors – a boy dog with black polka dots named Harry and a girl dog with pink polka dots named Helen. Overall, both pets are adorable and of great quality.
Pros
Well-designed Dalmatian toy dog
Responds to gestures and touches
Three AA batteries included
Cons
4. BIRANCO RC Dog
The BIRANCO RC Dog is more of an advanced species with a robot design that bears no resemblance to what your child might be used to. So why does it make our list? Well, this fun puppy comes with many more features than regular toy dogs. It won't just walk and bark, but it will also dance to your child's favorite tunes.
This interactive pup is designed to imitate the real thing in all ways. It will light up and respond when you make a gesture in front of its eyes. The eyes feature built-in sensors that allow the puppy to respond to commands of gestures accurately.
It will make adorable puppy sounds when you press its nose, which should make your child giggle. There is also a remote control that allows your child to control its movement.
Using the remote control, you can make the pup to walk, slide, run, and turn in both forward and backward directions. The pup can also sit down and stand up like a real dog. In adventure mode, this toy dog does some impressive feats. It can avoid collision with an object and look for a path without obstacles.
There are six STEM program keys that you can use to program the puppy actions. The STEM programs will record a maximum of 30 actions and the dog will repeat what you programmed. This feature makes teaching concepts in science, robotics, art, and technology to young kids very easy.
The BIRANCO RC Dog comes with a rechargeable battery which gives it a great touch. You won't have to worry about replacing batteries too often with this pup. To charge the battery, you would have to plug the USB cable into a USB port in its mouth. A full charge would take about 2 hours and it offers a maximum playing time of 3 hours. On standby mode, the battery will hold for up to 30 days.
Pros
Dedicated gesture mode
Features a rechargeable battery
Remote control
Cons
Design is not very realistic
5. Haktoys Flip-Over Puppy
The Haktoys Flip-Over Puppy is a plush cute pet with adorable dreamy eyes. This dog has its tongue sticking out and a bandana wrapped around its neck. While having its tongue out wouldn't thrill everyone, the bandana sure is cute.
The Haktoys Flip-Over Puppy comes with a bag full of tricks. It can somersault and land on its feet, walk, bark, yelp, and sit. It measures 7 x 7 x 4 inches and weighs just 7 ounces so your child can carry it around with ease. If your child is allergic to pets, this toy dog would make for the perfect buddy to have without triggering any allergic reactions. It is built according to ASTM & CPSIA toy safety standards and is relatively unlikely to cause allergic harm.
The toy dog is powered by two AA batteries. They should allow the toy to run around for a good amount of time before needing a replacement. The use of non-rechargeable batteries also means that you won't have to wait for the toy to get fully charged and you won't be restricted by the limited playing time as with most toy dogs with rechargeable batteries.
Pros
Comes with an impressive set of tricks
Small and compact
100% safe and hypoallergenic
Cons
6. Happy Trails Interactive Plush Puppy Toy
Soft, plush, and loveable, theHappy Trails Interactive Plush Puppy Toy is a great choice for parents and wards looking to gift their kids a fun companion. This adorable, battery-operated pup is made of synthetic fur that won't trigger an allergic reaction in kids allergic to pets, rather it makes for a soft friend to snuggle with. Unlike the real thing, this furry friend won't shed or poop, giving you less mess to clean up and it still brings loads of fun.
The Happy Trails Interactive Plush Puppy Toy can walk, bark, perform a perfect back-flip, and in notable addition, it can move its mouth. It requires two AA batteries to function and it can run for hours without end.
The only issue you might have with this charming buddy is its lack of a remote. Lack of remote means you would have to deal with control issues. Once switched on, the dog will bark continuously and this might bug you if you leave it on for long. The on/off switch is the only control mechanism on the dog. When on, the dog will bark, walk, and perform all its tricks. To set it down, you need to turn it off. This is very limited but it would still make a great gift for your kid looking for a pet to bond with.
Pros
Interactive battery-powered puppy toy
Soft and snuggly fur
Flips, walks, and barks
Cons
Won't stop barking once turned on
Related