Toy chickens are beautifully decorated play things that would create a fun experience for any child. Unlike the real deal, these toys come with plush fur – allowing for intimate cuddles and hugs. These toy birds are also a great way to educate your child about chickens.
Toy chickens that lay eggs are way better than ordinary toy chickens. This type will sing a classic tune that your child can rock to. They may walk and dance before dropping their eggs. The whole process is fun to watch and your child would be mesmerized to see the chicken lay eggs.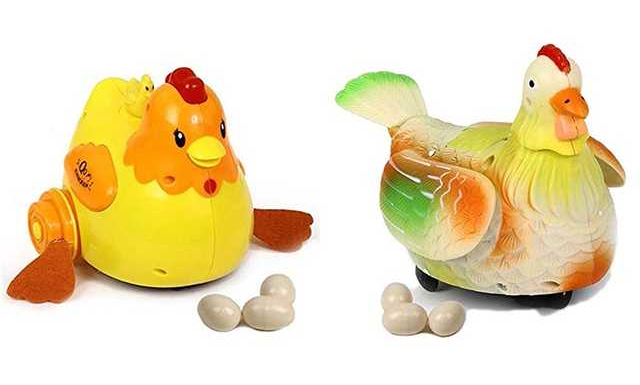 Toy Chickens that Lay Eggs: Our Top Recommendations
When shopping for the right toy chicken for your child, you will come across a ton of options with similar features, all making the same promises. Making the right choice would be rather difficult and you would have to read through long pages of reviews just to make a pick.
In this post, we have reviewed four carefully selected toy chicken that lay eggs. These recommendations would not only bring giggles to your little ones but will also offer value for your money.
1. Hallmark Sassy Squawkin' Egg Droppin' Hen
For your little ones, Easter could only get better with the Sassy Squawkin Egg Droppin Hen. Flaunting a hot pink Mohawk, this egg-dropping hen will be your child's center of attention. It has that girly Barbie-type look with dreamy eyes that make it a great gift for your girl-child.
Its pasta polka-dotted fur is great for cuddles and smooches, making it a great companion to your child. The polka dots on the skin are of different colors and this enhances the overall look of the hen. The main fur color is white, and this means you would have to clean out stains every now and then if your child has too much fun with it. The cape of the hen is more pronounced and fluffier than its other parts. This gives the hen a distinct "slay" look.
This spunky spring hen bounces and lays multiples eggs while swaying and whirling to a parody of the song Sexy and I Know It. It can dance, sing, and spread Easter cheer to get the whole family giggling. It will lay colorful plastic eggs as it razzles and dazzles, capturing your child's full attention.
This interactive plush hen is built to be small and lightweight enough for your child to move around. It measures 7.25 x 11 x 10.5 inches. While it is a great gift to give to your toddler, this sassy squawking hen is only recommended for kids above age 3. This is due to its small parts which could pose a choking hazard.
To lighten up your child's day, you would have to purchase three AAA batteries to power the hen. You will find these batteries along with the box when you make the purchase. You can get replacement batteries and replacement eggs with ease if the original ones because unusable.
Pros
Comes with musical functions
Equipped with solid plastic eggs
Batteries included
Cons
Eggs are not easy to replace
2. Squawkin' Egg Droppin' Mama Hen
Squawkin' Egg Droppin' Mama Hen is one stuffed animal that brings thrills, laughter, and makes for a great piece of decor. This hen will lighten up your kid's playtime with its fun tunes and a spirited style that spreads joy and cheer.
It comes with a polka-dotted plush fur that sports green, blue, pink, and orange dots. Wrapped around its neck is a blue-scarf that gives the mama hen a girly scout look. While mama won't be able to go camping or earn any badges as with other girl scouts, she keeps a watchful eye over her eggs and she will dazzle your little one as she clucks and bounces. To complete her mama look, this cheerful hen comes with a green netted hat resting peacefully on her head.
When turned on, this interactive momma hen will sing a classic tune, then squat and lay an egg. She comes with three colorful plastic eggs with each bearing one of the colors on her polka-dotted fur. You can double the eggs and double the fun for your little ones.
Replacing the eggs is also easy, but you should check the size of the original eggs and ensure the replacement is of the same size. This hen will only hold three eggs at a time but more eggs of different colors would make for a more enjoyable playtime. Note that Mama won't move around the house, but she doesn't stay in one place either. She will bounce while singing and laying eggs, which is a thrilling sight to behold.
This squawking fun hen comes with three double batteries that would give you a good use before needing replacement. The toy chicken measures 10.5 x 6.75 x 12 inches and it is just light enough for your 3-year old to move around.
Pros
Three AAA batteries included
Lightweight
Colorful design with realistic eggs
Cons
Plush fur is not really huggable
3. Besteamer Chicken Laying Egg
Thrill your child with this egg-laying chicken from Besteamer. This lovely hen is a great way to teach your kids about the nature of chickens without getting them bored. Rather than texts and images, you would use fun lights, sounds, and action since this electric plush hen is built to entertain. It would make for the best gift for your child if they want a cute and cuddly friend to bond with.
This interactive hen features a plush skin that is great to hug. At the top of its head is a stylish Mohawk that adds to its overall look. Its beautiful, deep-set cartoonish bright eyes and a large brown beak complete its look.
The Besteamer Chicken Laying Egg brings sound and music as it clucks and squawks. It would sing, dance, and lay three colorful plastic eggs to your child's delight. While this hen won't walk around, it would move up and down while singing, which makes for a fun sight.
This plush hen is powered by three double AA batteries. To get it singing and laying, you need to work the switch on its underside.
There are two switches – the main switch is placed next to the battery cover and would get the hen to bounce and sing, the other switch is on the chicken and it makes the hen lay eggs. These options give your child the freedom to choose what they want to chicken to do. They could choose the egg to sing and dance only or turn on the egg-laying switch and watch colorful eggs pop out of it.
This cute hen would make for a great gift for kids above the age of 6 months. It measures 11.75 x 8.25 x 5 inches and weighs only 14.4 ounces, so your little one won't have a problem playing with it.
Pros
This chicken sings and dances
Its two switches allow for easy optimization
Suitable and safe for little kids
Cons
This toy won't be able to move from place to place
4. SuBleer Chicken Laying Egg Toy
SuBleer Chicken Laying Egg Toy would thrill and delight your little ones as it dances, sings, and lays eggs. It comes with a plush fur that is soft to the touch and makes it great for cuddles. Wrapped around its neck is a yellow and red scarf that goes with fur color. Its dreamy eyes and large beak completes its overall chicken look and it is sure to bring happiness to your kid as it bounces and clucks.
With this hen, you could teach your kids where chicken eggs come from. Right at the bottom is its cloaca. This chicken will lay three colorful eggs of green, yellow, and purple. You can purchase extra eggs if you want, but you should make sure they are an exact fit as the original ones or they won't hold. If the eggs are too large, they would not move out of the cloaca and if they are too small, they would fall out as the chicken dances.
To get this fun chicken bobbling up and down, you would need to put the batteries in the battery area – you won't get the batteries with your purchase, so you would have to get them separately. With the batteries in place, you have to press the button on the wing to get it working. With that step, the chicken will come alive; it will cluck, dance, and lay eggs as the music plays.
This chicken would make for a great gift for little kids of 6 months and above. It is also small and light enough to be held and moved around. The chicken won't move on its own but will dance and lay eggs once it is turned on. It measures 3.94 x 1.97 x 1.97 inches and weighs just 3.53 ounces.
Pros
Impressive and colorful design
Great build quality
Dances and lays eggs with music
Cons
Related