If your kid loves toy animals, then chances are high that they'll love cute toy dogs — especially those that look quite real. Whether you're looking for the perfect birthday gift for your little one or you just want to get them something to help their social and mental development, you won't go wrong with a real-looking toy dog.
In this post, we'd be looking at some of the best toy dogs that look real.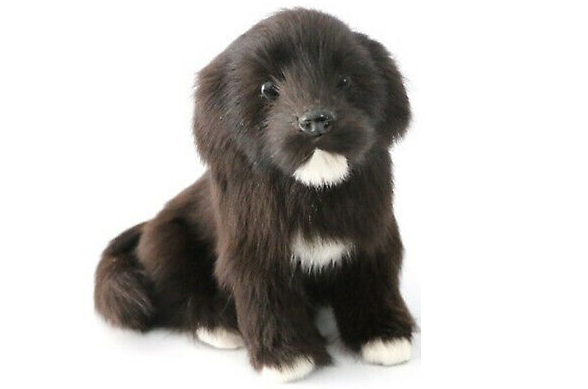 Toy Dogs That Look Real: Our Top 10 Picks
The market abounds with toy dogs of different "breeds" and sizes as well as varying degrees of closeness to reality. Making the right choice from the heap of options available can be quite daunting.
So, we spent hours scouring the market and comparing several cute-looking toy dogs. Our aim was to select the most realistic ones that also impressed us in the aspects of material, durability, features, buyer reviews, and price.
Here are our top 10 recommendations for your kid.
1. Douglas Dixie Sheltie Pet Toy Dog
Shelties are well known as loving companion dogs, and the Douglass Dixie Sheltie Pet Toy Dog is one of the most wonderful depictions of the breed on the market. It looks cute and oozes the charm of its real-life counterparts.
This dog toy will warm its way into your heart and that of your family in no time, thanks to its soulful brown eyes, soft, leatherette nose, and luxuriously plush body. If you've ever been the proud owner of a Sheltie before, you'd realize that the expression on the face of this dog toy is real.
Made of high-quality faux fur and springy soft polyester, this Douglas Dixie Sheltie Pet Toy Dog is a soft, cute, and very huggable doll. The material used in designing it is very durable and washable – just make sure you air dry or use the blow dryer to freshen up the fur.
Furthermore, this stuffed Sheltie's alert and stand-up poses make this animal ideal for play or display. This little would be great for people of all ages, provided they are at least 24 months old. The only drawback is that it does not have a voice box, so it doesn't bark.
Overall, this companion toy dog is one that you would love to have at your side as a loyal and affectionate friend. It has a clean look that does not fade and/or get stained over time.
Pros
Well-constructed
Lifelike
Durable
Can stand on its own
Cons
Doesn't bark
Doesn't breathe
Sheds slightly when handled
2. Original Petzz Cavalier King Charles Pet Toy Dog
Designed to look like a real-life Cavalier King Charles Spaniel, this toy dog is perfect for people who want a cute, enchanting, and graceful companion without the cumbersome and expensive responsibilities of maintaining a real dog.
Adding to its lifelike make, this toy dog comes with a breathing element that brings the animal-ownership experience to a new level. Once activated, your lifelike toy pet will breathe continuously for up to two months.
Its synthetic fur is handcrafted and that eliminates the possibility of hypersensitivities. Because it feels real, you will enjoy petting the animal and brushing its hair while watching its belly move up and down to give the appearance of breathing.
Apart from the toy dog itself, the package also ships a pet tag, a luxurious pet bed, a travel box, a grooming brush, and 1 D alkaline battery plus an adoption certificate for your new pup! You can replace the battery whenever the one in the package gets completely discharged.
Although the breathing feature makes the toy feel like a real dog, it may emit a faint 'click' sound. If you find the sound annoying, you can just take the battery out. Also, the dog toy doesn't change position – it just maintains its sitting pose and breathes calmly.
In all, the Original Petzz Cavalier King Charles Pet Dog Toy is a very realistic-looking little pup designed to serve as a relaxing companion. If you need a toy dog for cuddles and hugs, you just may need to look elsewhere.
Pros
Looks real
Includes a breathing element
Adorable appearance
Cons
Doesn't bark
Its position can't be changed
3. Perfect Petzz Original Shih Tzu Companion Dog Toy
With this toy pet from Perfect Petzz, you can say goodbye to messy feedings, harmful fleas, litter cleanups, pricey trips to the vet and other hassles that come with owning a real dog. You won't have to deal with the incessant barking that comes with being a pet parent to a real Shih Tzu dog either.
Curled up in a ball sleeping position, this toy dog looks real and can be taken anywhere including non-pet friendly residences such as condominiums and college dormitories. Its faux fur is handcrafted to look realistic and be super soft for a feel that kids and adults will love. You can brush the hair whenever you feel like it.
To enhance its lifelike attributes, the Perfect Petzz Original Shih Tzu Companion Dog Toy comes with a breathing element that makes this experience of owning it feel more real. You can watch its belly move up and down as it breathes.
Also in the package, you will find a collar with a pet tag, a luxurious plush bed, a travel box, a grooming brush, and a 1 D alkaline battery, which should last up to 2 months before it needs a replacement. In addition, you get an adoption certificate to complete your pet ownership experience.
If you are looking for a pet toy that you can cuddle, this may not be the right option for you as this pet is a little hard and cannot move or change position. Plus, it's not as big as a Shih Tzu but its small size makes it easy to carry and even more adorable.
Pros
Adorable
Simulated breathing
Cons
Doesn't move
Hard and not cuddly
4. Joy for All Golden Interactive Companion Dog
Looking for a dog toy that raises the bar in terms of realistic features, Joy for All's Golden Interactive Companion Dog is a fantastic toy pet you should consider. It provides a rich experience both for children and adults that want the companionship of a dog without the responsibilities.
This award-winning golden pup has an attractive design that fits snug in the hand. It is also soft and huggable, thanks to the furry realistic coat. A red bandanna is tied around its neck that makes it even more beautiful.
As far as its lifelike features go, this pet toy can sit and stand, making it easy both to play with and to cuddle. It also comes with a simulated heartbeat that can be heard and felt, suitable for people who want to snuggle and sleep beside a lifelike puppy.
Furthermore, this toy features the company's patent 'Bark Back' technology that enables it to respond to sounds including human voice by turning its head towards your voice. It can also respond to your touch with puppy-like sounds.
Additionally, this dog can bark but only at a low volume that won't startle a child or an older person. You can even decide to mute the sounds if you don't like them. In sum, this toy may be expensive but it is obviously worth the buy.
Pros
Responds to human voice and touch
Looks really cute
Can bark
Changes position
Cons
Pricey
Changing the battery is not straightforward
5. Original Petzz Beagle Pet Toy Dog
Yet another pet dog from Original Petzz, this toy is designed to look like a Beagle. Like other companion dogs from the company, this toy dog offers a unique alternative to pet ownership. It looks very much like the Beagle dog breed but only that it is curled up in a ball sleeping position.
Constructed of handcrafted synthetic fur, this toy looks and feels real. Its realistic appearance is complemented by the breathing element that's common among many toy dogs. The outcome is a soft sound that it emits to give the illusion of breathing as well as its body moving up and down.
In this Beagle pet box, you will find a collar with a pet tag, a luxurious plush bed to keep your new companion, a travel box for easy transportation, a grooming brush for its fur, and 1 D alkaline battery that the manufacturer claims should last at least 60 days. You will also find an adoption certificate that finalizes your Petzz ownership experience.
It's important to note that this pet toy does move or bark; its primary function is to provide companionship and relaxation to seniors and children. It is small enough to sit comfortably on the chest. There are complaints by some customers that the breathing sounds mechanical and creates noise but you can easily fix it by removing the batteries.
Pros
Soft and furry feel
Very realistic
Durable
Cons
Not cuddly
Breathing sound can be annoying
6. Vsing Realistic Dog Toy
Available in a mother and puppy Beagle style, the Vsing Realistic Dog Toy provides a rich real pet-like experience. It is the perfect substitute toy dog if you cannot have a real pet in your home.
It is constructed of 100 percent handcrafted synthetic fur and cotton that doesn't just look nice but also feels soft, exquisite, and nice in the hands. The toy itself comprises a sleeping mother Beagle and her pup with big, cute eyes that's sure to melt your heart.
Although the mother Beagle is a nappy cute dog, its appearance is realistic, making it possible for you to pet it and its puppy to calm yourself down and feel what it's like to have a real dog. Underneath the toy is a soft dog mat that's made of cotton. It is super soft and comfortable.
The mat also contains active carbine particles, which can help purify the formaldehyde and any other nasty odor in the room. Consider this an add-on to the pet toy from the company.
Unlike its contenders on the market, this toy doesn't need batteries because it's basically just a nappy dog. There's no simulated breathing or movement or any barking. Also, note that the dog is attached to the mat – so don't expect it to come off.
Pros
Very cute
Looks and feels like a real pet
Air-purifying element
Cons
No movement
No barking
Not quite portable
7. Douglas Alps Bernese Mountain Dog
Pet owners are tasked with many duties that include washing and grooming their pups but with the Douglas Alps Bernese Mountain Dog, you won't have to deal with any of these maintenance demands. What you have here is an attractive tri-colored toy dog that will be your loyal friend and companion.
This realistic toy is a soft, squeezable, huggable dog with expressive, soulful brown eyes, a leatherette nose, and endearing floppy ears. Its detailed lifelike features make it an irresistibly beautiful plush puppy that you will want to hold up to hours of play and endless hugs. The dog is also great for stroking and cuddles.
Moving on, the toy is made of quality diverse plush material with air-brushed accents to create a truly realistic design, which brings it to life. Typical of the breed, it boasts a short bobtail and a shaggy coat lends additional realism. It is also very large like real Bernese Mountain Dogs but it is surprisingly light in spite of its size.
Although not a drawback, the package comes with some lumps of glue on its coat, which requires careful removal so it doesn't lose its fur. However, be aware that the toy dog doesn't move or make sounds but you can take it with you wherever you go. Maintaining it is easy as the manufacturer recommends that it should only be spot cleaned to maintain its huggability.
Pros
Adorable
Well made
Big and soft
Cons
Doesn't move
Doesn't make sound
8. Nat and Jules Standing Large Pug Dog
If you've always been a fan of the pug dog breed, then you're going to love the Nat and Jules Standing Large Pug Dog in plush form. Whether you are looking for the perfect companion to a special child or an adult or you're just looking to make your creative plush collection come to life, this toy dog is a great option worth considering.
It is made of high-quality materials with hand construction to guarantee a unique and nice feel. The fur is extremely soft and it sits without tipping. Airbrushed details, tail, an expressive face, and eyes that seem to stare into your soul all combine to make this pup a lifelike companion. Pugs are known for being gentle and the facial expression of this plush dog will warm your heart.
Like other toy dogs from the company, this pug features a delicately stuffed body that makes this plush dog a cuddly, huggable friend while maintaining its consistent and realistic appearance. Its size is perfect for little hands to hold on the go or to snuggle at bedtime.
Maintaining this plush toy is pretty straightforward as it requires only spot cleaning. The drawback is that it doesn't move neither can does it make sounds like its interactive counterparts.
Pros
The small size allows for portability
Cute and realistic
Super soft
Cons
Doesn't move
Doesn't make sound
9. Melissa and Doug Dachsund Toy Dog
Sporting a striking appearance that's similar to its real-life counterparts, the Melissa and Dough Daschund Dog is a plush toy that will invade your home with loads of cuteness and charm. It is a must-have for anyone who wants a classical little pug dog made in the most elegant and beautiful style possible.
Crafted with classic tan and black markings, this dog is made of high-grade fur for playtime fun while the soft polyester materials make it ideal for hugs and cuddles. Long ears, sweet, amber-colored eyes, pointy snout, and stubby legs all point to great attention to details, giving the toy a charm that's impossible to resist.
Even more, its facial expression engages on an emotional level and makes this stuffed animal more lifelike. However, this dog is not an interactive one as it does not move, respond to touch, or make sounds. It also doesn't require a battery but its small size makes it easy to move around.
Nonetheless, this toy dog is the perfect choice for those that want a companion that would never do anyone harm. It is squishing and not floppy, which is a good sign that it will keep its shape for a long time while warming its way to your heart.
Pros
Well-made
Very soft
Super cute
Well-stuffed; not floppy
Cons
Doesn't move
Doesn't make sounds
10. Douglas Yettie Yorkie Yorkshire Terrier
The Douglas Yettie Yorkie Yorkshire Terrier is a realistic plush representation of the Yorkshire breed which is widely loved by people of all ages. Suitable for both adults and kids (24 months and up), this toy dog will give you maximum relaxation and worries with zero worries of the hassles and expenses that go into keeping a real-life Yorkshire.
This appealing Yorkie puppy is made with premium-grade plush and soft polyester fill that's not just soft but that also makes it huggable. As far as physical appearance goes, its soulful, brown eyes shine out from the scruffy fur of his face, giving the expression of charm and a little mischief. It will hold up to hours of creative play.
Just like you'd expect of a plush Yorkie dog, this toy features a soft gray, tan coat and tiny perky ears that will almost make you forget that it's not the real animal. Its lively face and small size will endear it to your heart and make you want to keep it by your side at all times.
It does not move or make sounds, but it is adorable. The toy also sheds a little bit but stops after a while. The manufacturer recommends only a surface wash for the toy.
Pros
Realistic pup
Good quality
Cons
Doesn't move
Doesn't make sounds
Sheds a little occasionally
Related