Toy boats make water play a lot more fun for kids, especially when they can float like real boats. So, if your kids enjoy playing with water, getting them a toy boat is a sure way to make them happier and more fulfilled during their playtime. In this post, we'd be looking at some of the best toy boats that actually float on water.
Toy Boats that Float on Water: Our Top 7 Picks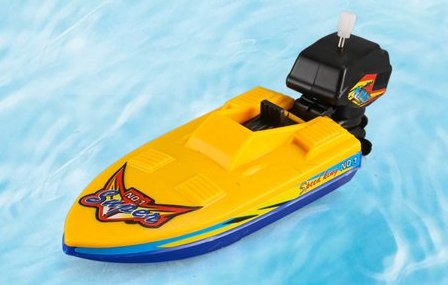 From single-piece models to Lego options, the market abounds with toy boats of different designs and by several different brands. This explains why it's hard to make the right choice from the pack.
But there's good news. Our research team has done all the hard work. We scoured the market to figure out the toy boats that actually float and compare them in terms of design, durability, features, and buyer reviews. And from our initial long list, we cut out the low performers until we were left with these awesome options you won't go wrong with.
1. Green Toys Ferry Boat with Mini Cars
One thing that makes the Green Toys company stand out is the durable materials that they use in making their toys. This company makes its toys from 100% recyclable materials which are safe for the environment and for your kids. Just like every other toy from Green Toys, the Ferry Boat with Mini Cars is sturdy, durable, and of top quality.
Removing the Green Toys Ferry Boat with Mini Cars from the box is very easy. It doesn't require any form of assembly, so your kids are ready to play with it straight from the box. There are two cars which come fixed into the boat. However, you can take them out so that your kids can play with them separately from the boat.
The ferry boat has a few moveable parts that add to the realistic experience your kids will enjoy from using it. One of the moveable parts is the ramp located behind the boat. It is quite sturdy so the cars can ride on it to get back aboard the boat. Another interesting thing about this boat is that you can separate the base from the cabin. This way, if water gets into the base, you can easily get it out.
Every part of this toy is designed to be waterproof including the cars. Both cars don't have much going on, however, they are very sturdy and add to the fun. The cabin of the boat has enough space to accommodate more than two cars. So your kids can add a few other miniature toys if they want.
Pros
Sturdy and durable design
Floats on water
Cars are durable and move around easily
The moving parts are easy to maneuver
Waterproof
Cons
2. LEGO City Race Boat Transporter 60254 Race Boat Toy
We all know about how much LEGO brings to the table. The LEGO City Race Boat Transporter doesn't water down the high standards that this company has set. It comes with 238 pieces so it should take around 40 minutes to finish building. You can have some fun with your kids while building this toy since it helps to improves their hand-eye coordination.
To make it easy to assemble, LEGO adds two instruction manuals. One manual carries the instructions for building the boat while the other bears the instructions for the transporter. The stickers in the package are a little too big.
There are two mini-figures in the package, a woman and a man. Both figures are well-kitted in similar outfits. Behind the boat are two moveable propellers that help to move the boat in water. There is also a motor and a pair of special turbo. The cabin is covered with a transparent plastic that you can open up for the captain to sit and control the boat.
There is a flat trailer where you place the boat for easy transport when it is out of the water. This trailer is detachable so your kids can remove it and play with only the car when they want to. The car is quite realistic since it has moveable headlamps, while the roof is removable as well. You also have access to digital building instructions for free. This toy is great for kids that are 5 years old and upward.
Pros
Easy to assemble
Sturdy parts
Improves hand-eye coordination
Nice design
Lots of pieces to play with
Cons
Large stickers
Once any of the pieces is lost, it becomes difficult to use the toy
3. Green Toys Tugboat
We've already told you how Green Toys makes use of recyclable material to build their toys. The tugboat is no different and it is very durable as well. This toy comes out of the box ready to go into the water since every part is waterproof.
The boat is very colorful and this makes it attractive even to little kids. Since there are no small removable parts, even babies of 6 months old can enjoy playing with the toy. There is a handle that runs from the deck behind to the wheelhouse to make it easy for kids to carry the boat. It also has a wide mouth from which it spouts water.
Other features of the Green Toys Tugboat include a ladder, anchor, life preserver, horns, and lights. Another thing about this toy that we like so much is the retro design. It takes you down memory lane. Overall, this is a great toy and very affordable.
Pros
Very affordable
Wide-mouth spout
Easy to play with even for babies
Attractive colors
Cons
4. 3 Bees & Me Bath Toys for Boys and Girls
One of the interesting things about this toy set from 3 Bees and Me is that there are four boats in the package. That's a great deal, especially if you have more than one child playing with it. A lot of value for money.
All the toys in the set are made from BPA-free material that are also lead- and phthalate-free. The toys are designed to last because they are made from very sturdy materials. Another fact about this toy set is that it is highly educational. You can teach your kids about numbers and colors using this toy set while having loads of fun.
Again, this is another toy set that is safe for kids that are less than one year old. The round designs mean that there are no sharp edges to hurt your kids during play. There are also no very small parts that toddlers may mistakenly swallow. The toy set comes with an ergonomic design that is so easy to grip.
Pros
Great ergonomic design
Four boats in the packageEducational
Durable
Cons
The boats are quite small
5. LEGO Technic Catamaran 42105 Model Sailboat
If your kids love water racing then this LEGO toy set might interest them. The Technic Catamaran comes with 404 pieces, so there's more than enough to keep your kids busy all day. There are several realistic features in the package such as daggerboards, a rudder, and moving sails.
You can use this toy as an avenue to inspire a love for engineering in your kids. As always with LEGO toys, this toy set helps to build hand-eye coordination and motor skills in your kids. It also helps to spark-up their imagination while improving their creative abilities as well.
The Catamaran comes with two attractively designed sails to add to the realism of the toy set. With these, your kids can see how rudders and sails work in boats. As you can tell, the whole package is waterproof and the boat floats on water. Overall, this package comes at a very affordable price.
Pros
Very affordable
Attractive design
Very durable
A lot of realistic parts
Cons
6. Matty's Toy Stop Plastic Boats Set
This toy boat set from Matty's Toy Stop is a mix of three different kinds of boats, a sailboat, speedboat, and fireboat. Each one comes in a unique color to add some spice to the collection. This toy set is great for the bathtub, pool, and even the beach.
All the boats are compact and lightweight in size, so that even very young kids can enjoy playing with them. Don't let their weight fool you: they are also very durable while being able to float over water. You can give out this toy set as a gift to your kids on their birthdays or as souvenirs at a kiddies' party.
It is great for kids from 3 years old upwards. One challenge with the boats is that they are difficult to take apart when there is a need to dry them. Asides from this, you have a great toy set on your hands.
Pros
Durable
Lightweight
A mix of 3 different boats
Affordable
Cons
Difficult to take apart
Doesn't float so well
7. United States Coast Guard Rescue Boat Playset
The United States Coast Guard Rescue Boat Playset comes with two mini-figures. These figures add to the realistic nature of this toy set. Your kids should have a fun-filled day playing with this toy set.
The toy set also comes with several weapons and accessories. It has a floatable watercraft that comes with two gun turrets. The challenge with this toy set is that you have to work hard to keep it steady in water. Once you tip it over, it sinks immediately.
Nonetheless, a lot of work was put into ensuring that the toy set comes with a lot of detail. It is also a great toy set for its affordable price, so you get a lot of value for money.
Pros
Sturdy and durable
It comes with several weapons and accessories
Easy to set up
Attractive design
Cons
Tips over easily
Doesn't float so well
Related