If you have kids who enjoy playing with water and putting small pieces of stuff together, then a LEGO boat that floats on water would catch their fancy. Playing with a floating boat is interesting in itself, but playing with a boat that was self-built from scratch is even more fulfilling.
So, in this post, we'd be reviewing some of the best LEGO boats that actually float on water.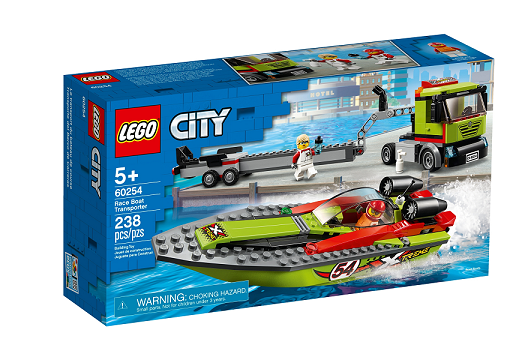 LEGO Boats that Float on Water: Our Top Recommendations
Although you'd find a good number of LEGO boats on the market, most of them won't float on water due to the inevitable spaces between a built-up boat. But then, we were able to find a few options that actually float, nonetheless. And we went the extra mile to compare them in terms of design, durability, and buyer reviews.
And here are our top recommendations.
1. LEGO City Fishing Boat 60147 Creative Play Toy
The LEGO City Fishing Boat, as the name implies, is a very creative toy set. It comes with several pieces that create a realistic experience for your kids as they play with the set.
The LEGO City Fishing Boat toy set comes with some small fish that your kids can attempt to catch. It also comes with a very large fish that probably wants to scare or catch your kids. This boat is based around a preformed haul that is completely sealed and waterproof, so it floats easily. When you look inside, you will see several small pieces that add a lot of detail to this toy.
Because of the small accessories added to this toy, you may need to sacrifice some time to assemble the set. There is a radar replica at the top with several searchlights scattered around the boat. You will also see a seat behind that can rotate and a fishing rod in the hands of a fisherwoman.
Also, the boat comes with very large twin motors located at the rear to give the feel of a traditional motorboat. This is probably the only part of the design that doesn't seem too comely. The motors are just big and look like blocks; however, we understand the motive. These twin motors with propellers are retractable and this makes up for their funny design .
The package also comes with two life vests, two orange fish, one grey fish, and two mini-figures. Already, we told you about the fisherwoman; well, there's a man who sits in the control area of the boat. However, there isn't a seat for the captain, so he sits on the floor. The shark is very large and has a mouth that opens.
Pros
A lot of detail is put into this toy set
Lots of accessories
Realistic feel
Very little building is required because of the size of the boat
Cons
2. LEGO City 60168 Sailboat Rescue Toy Boats
The LEGO City 60168 Sailboat Rescue Building Toy is quite similar to the 60147 set above. Considering that it has 195 pieces in the package, it comes at a very affordable price.
Just like the 60147, this toy set also comes with two mini-figures. One is a rescue pilot while the other, as expected, is the sailor. There is also a huge shark in this toy set, similar to its predecessor, the 60147 sets. Where the difference lies is in the presence of a coastguard rescue craft and a sailboat.
The rescue craft comes with a set of drop-down motors as well as spinning propellers. With these, the rescue craft can also move around in the water. It is completely waterproof so you have nothing to worry about. The sailboat comes with a sail, a toppling mast, and a working rudder. All of these put together gives your child a realistic experience when playing with the toy set.
There's one component of this toy set that your kids will absolutely love – the rock island build. It adds some realism to this toy set. A lot of work went into adding minute details to this toy set with the aim of creating a realistic experience. You can take advantage of this toy set to teach your kids about sea transportation.
Each item in this toy set is durable and the whole set is very easy to set up and use. The figures added to the package aren't too small even though we think the shark is a little too large. Overall, the LEGO City 60168 Sailboat Rescue Building Toy is worth buying for your children.
Pros
Sturdy and durable build
Lots of pieces
Extra boats that also float
Very affordable
Cons
We couldn't find any issues, really.
3. LEGO Technic Catamaran 42105 Model Sailboat
The LEGO Technic Catamaran 42105 Model Sailboat is the newest addition to the LEGO boat family. One of the first things that you will notice is the number of pieces that the package contains. There are 404 pieces in this set, which mean there is more than enough to occupy your kids all day long.
This toy set comes with so many realistic features. The amount of details put into designing the LEGO Technic Catamaran 42105 Model Sailboat is amazing. There are daggerboards, a rudder, and even moving sails. With these, you can have your kids hooked to this toy set for extended periods of time.
You can even take advantage of this to teach your kids how boats work.Your kids have the opportunity to master the strategies of speed sailing and how to angle sails. This way, you can inspire them to become sailors in the future or something related as well. To ensure maximum stability, LEGO designed the daggerboards to be moveable so that you can lower them.
One of the advantages of this toy set is that it builds the imaginative capacity of your kids. It also helps to develop their motor skills while they catch fun. You can hand out this toy set to kids that are aged 8 years old or older for any kind of occasion.
The boat is about 12 inches long, 8 inches wide, and sits at a height of 17 inches. Put all of this together and you have a very realistic toy boat. It comes with an ergonomic design so it is easy for your kids to handle every component in and out of water.
Overall, the LEGO Technic Catamaran 42105 Model Sailboat is a great purchase. It inspires creative play and helps your kids to develop great building skills. The components are made from durable materials and it actually floats.
Pros
Inspires creative play
Helps to develop your kids' creativity and motor skills
Ergonomic design
All the components are sturdy and durable
Attractive 2-in-1 design
Lots of pieces to play with
Very affordable
Cons
Assembly is a little too complicated
4. LEGO City Great Vehicles Diving Yacht 60221 Building Kit
The LEGO City Great Vehicles Diving Yacht 60221 Building Kit comes with 148 pieces. While the pieces aren't as many as what we have in the Catamaran, they are still enough to engage your kids. There are two diver mini-figures, some crab figures, and a swordfish.
The male diver comes with a removable helmet, a camera, and air tanks behind. You can even remove the hairpiece as well as the air tanks. The female diver comes with a huge camera and all the other equipment you see on her male counterpart. Just like in the male, you can remove the air tanks and hairpiece. Added to the collection is a cute hat that your kids can place on the head of the female.
The boat looks very modern, especially with the screen in the cabin. One of the attractive features of this boat is that you can take off the roof completely. When you do, you get to see the large room of space inside the cabin and the other small components. All of these put together, help to create a very realistic experience for your kids as they play.
There is a sailor inside the boat and upfront, you have a nice yellow light. This light is cute and worth the effort even though it is just a figure. There are stickers on the boat but there is no engine present. Instead, there is a pair of ladders that the divers can climb down to get into the water. The mouth of the swordfish can open upwards and there is a secret treasure chest with two rubies.
Overall, the LEGO City Great Vehicles Diving Yacht 60221 Building Kit is a great buy. The packaging isn't too interesting but that doesn't affect the design or quality of the toy set. More than anything else, it is very affordable considering the amount of value that this toy set presents.
Pros
Very affordable
Lots of realistic pieces
Attractive design
Inspires creative play
Lift-off roof
Cons
The package design isn't too attractive
5. LEGO City Police 60129
One of the striking features of the LEGO City Police 60129 is that it comes with two boats in one. There is a boat for the police and the other for the criminals. At the front of the boat is a spotlight and a figure operating it. This spotlight can be turned in different directions to create a realistic feel.
A lot of effort was put into the design of this toy set to create as much realism as possible. There is even a prison cell on the deck and it has lights all around. The prison cell has a figure of one of the bad guys stationed inside and the gate is moveable as well. Another attractive feature of the LEGO City Police 60129 is the deck. There is a low and upper deck with a captain in the cabin at the top.
Beneath the upper cabin is the main deck with all kinds of cups, tools, and a ladder. Asides from these, there is nothing else in the deck. The criminal boat comes in an inflatable boat design with a motor behind. There is also a captain figure here and a chain with some money.
Overall, the LEGO City Police 60129 is not a bad toy to invest in. The figures are attractive and there is a lot of details with this toy set.
Pros
Great design
Affordable toy set
Lots of accessories
Cons
Related